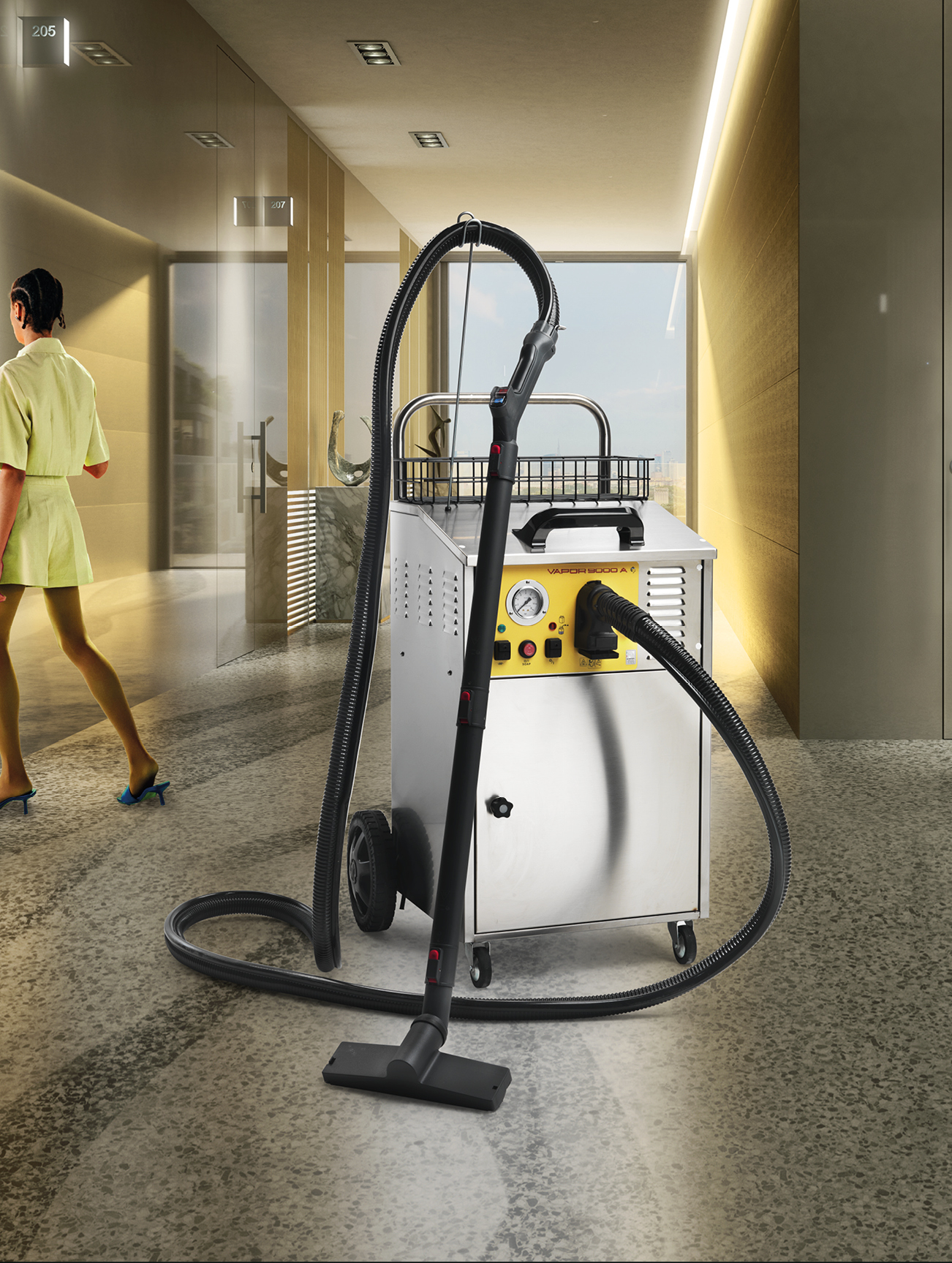 Steam / Aspiration /
Venturi effect water filter extraction
Engine features:
Professional two-stage conveyed tangential;
max depression 24 KPa, air flow 47 l / s, max rpm 23,000.
Boiler features:
304 stainless steel boiler with 3 die-cast resistances;
automatic self-filling from tank capacity 20 liters.
Pumps features:
1 pump for automatic boiler refilling;
1 pump for detergent, self-ventilated.
Safety devices:
7.5 bar working pressure switch;
End of water thermostats;
Manual reset safety thermostat;
Boiler overpressure valve for 9bar opening
Materials:
Stainless steel shell;
304 Stainless steel boiler.
Power supply: 380v – 50Hz
Boiler power: 3000W
Suction motor power: 1000W
Total power: 9000W
Working pressure: 0.7 MPa
Boiler capacity: 5 liters
Approved boiler: Stainless steel
Air flow: 47L / s
Steam pressure: 7.5 bar
Resistors: 7500W
Dimensions: 65x66x97H cm
Water tank capacity: 20 liters
Low voltage control unit: 12v
Volume: 4.2 liters useful
Insulation class: I.
Weight: about 45 kg
Detergent tank: 5 liters
Steam outlet temperature: about 160 °
Steam temperature in the boiler: 180 °
Steam regulation: yes
Automatic winding: yes
Stainless steel shell: yes75

Complete line of standard accessories for cleaning all surfaces


VAPOR 9000 A Plus optional accessories:
Circular brass brush
Circular stainless steel brush
Circular nylon brush with hard bristles
Long nozzled
Curved nozzled