Steam / Aspiration / Venturi effect water filter extraction
Engine features:
Professional two-stage conveyed tangential;
max depression 24 KPa, air flow 47 l / s, max speed 23,000.
Boiler features:
304 stainless steel boiler 12/10 thickness;
aluminum bottom anti-corrosion treatment with 2 die-cast resistances;
automatic self-filling from tank capacity 5 liters.
Pumps features:
1 pump for automatic boiler refilling;
1 pump for detergent, self-ventilated.
Safety devices: Water end thermostats;
Manual reset safety thermostat;
double safety valve for boiler pressure for opening at 0.7 MPa.
Materials:
304 stainless steel shell;
Shockproof PP tank;
fittings for air passage in self-extinguishing material, accessories in glass-filled nylon.
Professional Accessories:
Flexible 4 mt. with steam control and motor on handle;
2 extension tubes;
1 lance with 3 brushes;
1 suction steam brush complete with rubbers and bristles;
frame with interchangeable inserts on steam brush for carpets and rugs;
1 nozzle for fabrics; 1 curved tip with nylon brush;
1 squeegee;
1 round brush body with 1 stiff bristle insert;
1 triangular insert.
Power supply: 230v – 50Hz
Boiler power: 3000W
Motor power: 1000W
Total power: 3300W
Working pressure: 0.6 MPa
Boiler capacity: 2.7 liters
Volume: 2.2 liters useful
Insulation class: I.
Weight: about 28 kg
Dimensions 45x50x85H cm
Detergent tank: 5 liters
Boiler refill water tank: 5 liters
Power cable: 5m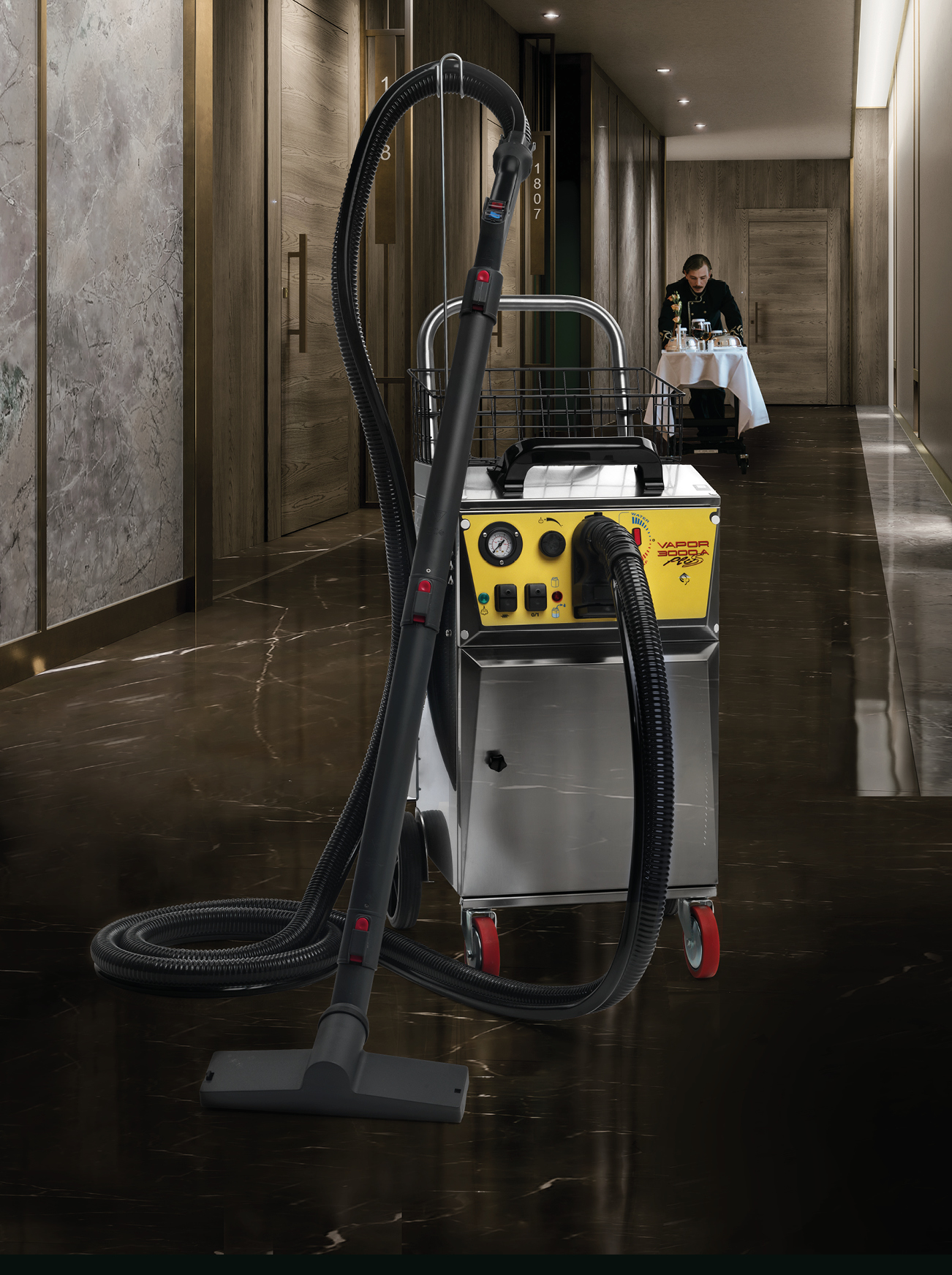 Complete line of standard accessories for cleaning all surfaces

VAPOR 3000 A Plus optional accessories:
Circular brass brush
Circular stainless steel brush
Circular nylon brush with hard bristles
Long nozzled
Curved nozzled 3